Happy New Year!
All over the UK last night there were parties, fireworks, singing and dancing, to ring out the old year and ring in the new. As the clock struck midnight, people crossed their arms and joined hands to sing Auld Lang Syne (a traditional song dating back to the 1700s, about times gone by and good friendships). These are the traditional celebrations that the majority of UK inhabitants share.
But what about the individual new year customs that are peculiar to specific towns, regions or countries of the UK? Read on to find out the very different ways that some of us celebrate!
First Footing
As a young child, I recall being woken just before midnight on New Year's Eve by loud whispering in the hallway (we lived in a bungalow and my bedroom was by the front door). The adults in the house were clearly organising something. The next moment, my (tall, dark) father burst through the front door brandishing a lump of coal – and then clattered out again moments later with a pan of ashes. I thought they had gone mad! But I was told not to worry; it was called First Footing, and it was "very important" that it took place if we were to have good luck. Until this moment, I had not considered my parents to be superstitious at all!
For the uninitiated, First Footing is a custom whereby as soon as midnight passes, people wait behind their doors for a 'dark-haired person' to arrive. It is thought that the custom may date back to the Viking invasion of Britain when the arrival of a blond-haired person signified bad news. The visitor carries a piece of coal, and sometimes other items such as bread, whisky, and money, to bring good luck. The coal ensures the house will always be warm this year, the bread that everyone will be fed, and so on. The visitor is then required to take a pan of dust or ashes out of the house with him, signifying the departure of the old year.
Calennig and Mari Lwyd
While First Footing hails from Scotland but is performed all around the UK, there is a popular tradition carried out only in Wales known as Calennig. Meaning 'New Year's gift', according to the Calennig tradition, children call from door to door bearing good wishes for the year to come and sometimes offering a good-luck symbol (also called the Calennig) to display in the home. It comprises an apple skewered with dried fruit, cloves and sprigs of evergreen.
From dawn until dusk on 1 January they pass from house to house in the village or town, and sometimes sing to receive small gifts of food or money for their troubles. In the old days, for many children in rural Wales, the gifts of Calennig were far more important than Christmas.
Another ancient Welsh tradition that celebrates the end of the Christmas season and the start of the new year is Mari Lwyd, or 'Grey Mare' in English. This is a wassailing folk custom that involves a group of singers going from house to house with the Mari Lwyd (a mare's skull dressed in a sheet and ribbons or, more likely today, a dressed hobby-horse). The origins of the custom are unknown, but some link Mari Lwyd to legend connected to the nativity – a pregnant horse sent out of the stables when Mary arrives to give birth to Jesus, who then spends dark days roaming the land to find somewhere new to give birth.
When the singers arrive at a house with Mari Lwyd, they sing Welsh language songs or wassails, or more traditionally indulge in a ritual called pwnco: an exchange of rude rhymes with the person who lives there. If the Mari and her gang gain entry, the household is said to have good luck for the year. The Mari is well-known for being mischievous – trying to steal things and chase people she likes – as she goes about her bidding.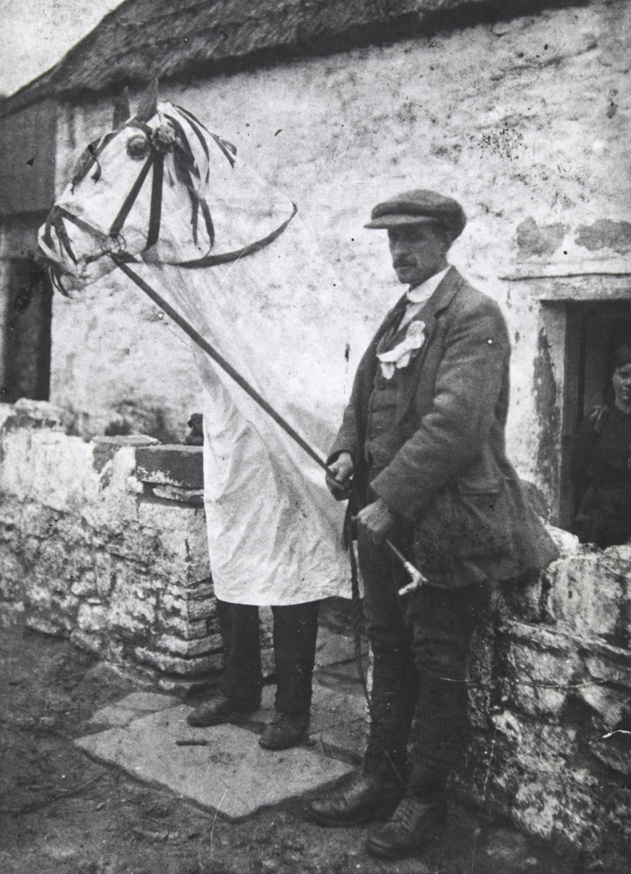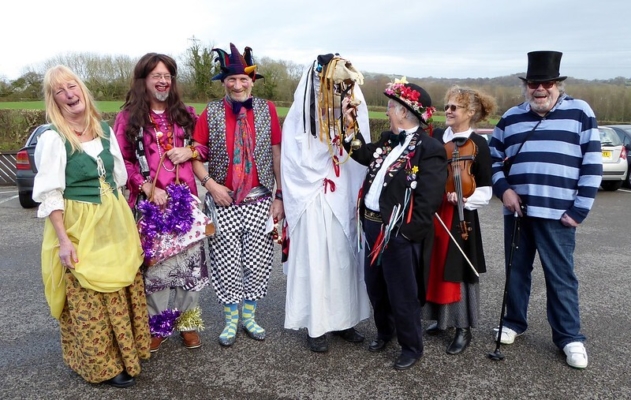 Fire festivals
In Northern England and Scotland, fire festivals are often held to mark the new year. These have their origins in Celtic times when smoke was believed to ward off evil spirits and fire to entice the sun's return.
At the Allendale Tar Barrel Festival in Northumberland, for example, 45 whisky barrels filled with burning tar are balanced on the heads of local people (known as 'guisers') and paraded around the town. At midnight, the parade culminates in the centre of the town as the barrels are thrown onto a bonfire with the cry of "be damned to he who throws last!"
The Flamborough Fire Festival in Yorkshire is another example. Viking tradition states that the air could be cleansed of the old year's spirits with fire, so the locals to this day take part in a ceremony which involves swinging fire around their heads!
In Scotland, the Hogmanay Fireball Procession takes place in the fishing village of Stonehaven, where 60 fireball swingers dressed in costume parade down the High Street swinging lit cages filled with paraffin-soaked rags in a spectacular display.
The Flambeaux Procession in Comrie involves a group of select locals gathering just before midnight bearing 10-foot poles each topped with sacking which is set on fire and paraded through the streets after midnight strikes. Pipers lead the procession and the torches are then cast into River Earn to rid the town of the year's evil spirits and bring good luck for the new year.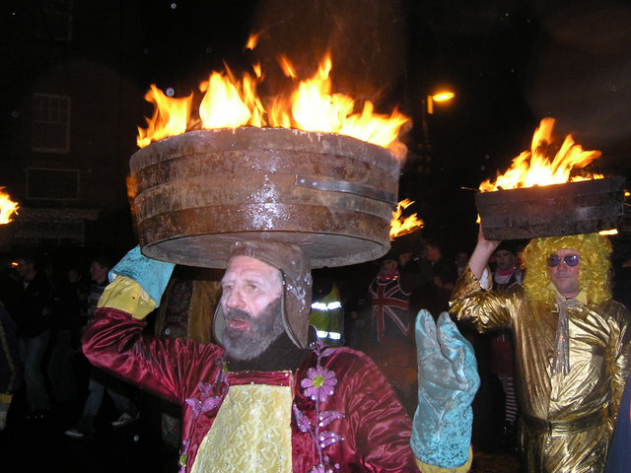 Banging the bread
There are many traditions followed in Ireland to mark the new year, too. Those seeking good luck are encouraged to go in through the front door at the stroke of midnight, and then out through the back door. In addition, a special 'Christmas bread' is baked and then used to bang on the doors and walls of the family home to chase out bad luck and invite in good spirits.
Other customs include performing a thorough spring clean of the house, and honouring the dead by setting a place at the dinner table for those who have died in the previous year (and leaving the door off the latch, so they can enter). Per Irish tradition, the dinner should comprise corned beef and cabbage, along with potatoes, carrots and onions for a new year filled with luck and abundance.
Rabbits and wind!
Some of our other customs and superstitions are very simple. In Yorkshire, for example, to bring good luck, people say 'black rabbits, black rabbits' in the closing seconds of the old year, then 'white rabbits, white rabbits' as their first utterance of the new year.
In various parts of the country, superstitious farmers take note of which direction the wind is blowing, as it is said to affect the next year's weather. According to tradition, a wind from the south means a good harvest, while one from the east means a good year for fruit, but a wind from the north foretells a year of storms.
Underpants and grapes!
Of course, the UK is not alone in its unusual new year customs, traditions and superstitions. The occasion is marked in a myriad of ways around the world, too.
Fire is the theme in Ecuador, South America: to banish any ill-fortune from the past year, people there set fire to scarecrows filled with paper at midnight on New Year's Eve. They also burn photographs of things that represent the past year, as a way of putting the past to one side and looking forward. However, in Puerto Rico, water is preferred: they believe that dumping a bucket of water out the window drives away evil spirits.
In other South American countries, such as Mexico, Bolivia and Brazil, people's fortunes for the year ahead are all decided by the colour of their underpants! On New Year's Eve, they must wear red to find love; yellow if they want to get rich; or white if they'd like some peace and quiet!
But it's grapes which represent good luck for people in Spain. According to the travel website Atlas Obscura: "Eating one grape at each of midnight's 12 clock chimes guarantees you a lucky year — but only if you simultaneously ruminate on their significance. (Each grape represents an upcoming month.) If you fail to conscientiously finish your grapes by the time the clock stops chiming, you'll face misfortune in the new year."
In Denmark, people stand on their chairs and "leap" into January at midnight to bring good luck and banish bad spirits.
In Germany and Austria, people give gifts of lucky tokens to friends and family to bring them good fortune. These include pigs, mushrooms, clovers and chimney sweeps! They can be bought at Christmas markets, and include edible versions made from marzipan.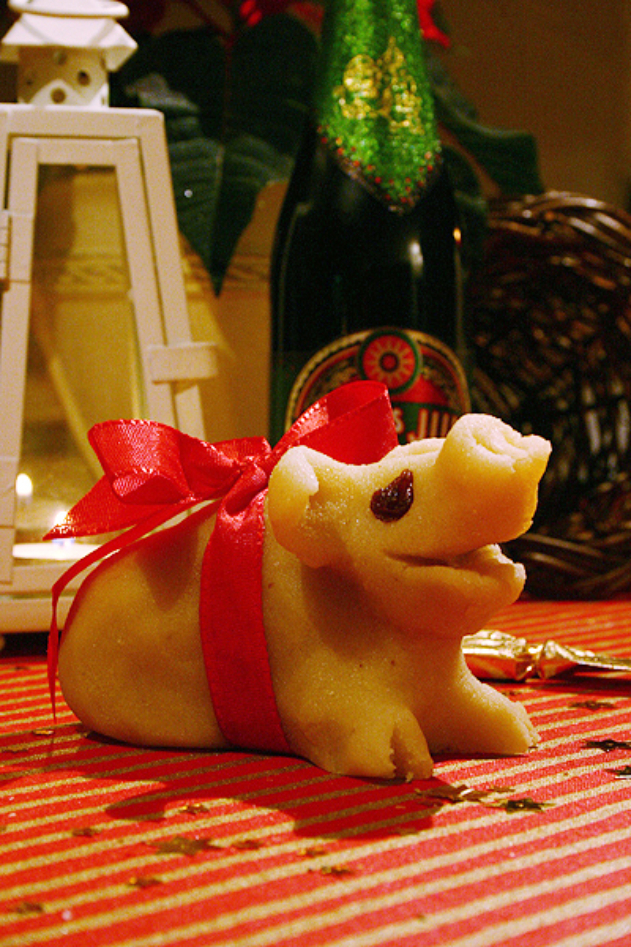 Happy New Year!
I found it interesting to research all these very different traditions, customs and superstitions – but I'm sure you will notice that they do have one element in common: a belief that what you do on New Year's Eve or New Year's Day will affect the year ahead, for good or for bad.
So, whether it's first-footing, a fire festival or banging the Christmas bread, however you celebrate or mark the occasion, all of us at Free UK Genealogy would like to wish you good luck – and a very Happy New Year!